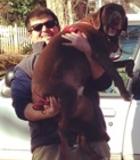 Cal WickerPresident
Cal is a native of Spartanburg and currently resides on the east side of town.  He is a graduate of Davidson College where he received his Bachelors of Science in Mathematics, and then went on to Wake Forest University to earn a Masters of Arts in Management. Cal recently joined BB&T in Spartanburg as a part of the commercial lending team.  In addition, he is a member of the Board of Directors for the Young Bankers Division of the South Carolina Bankers Association, the United Way of the Piedmont Young Leaders Society, and Spartanburg Young Professionals.  Cal also is a member of First Presbyterian Church where he helps coach a Youth Basketball Team. Cal is a supporter of downtown development and is excited about the recent growth Spartanburg has experienced.  Cal has been a part of the Hub City Hog Fest team since inception and is a longtime supporter of Mobile Meals.

Brad BlackwellTreasurer/Operations
Brad and his wife Kinsey live in Spartanburg, SC where they spend plenty of time chasing their first son, Bowen. Brad has a long history of nonprofit work beginning in his teenage years after being diagnosed with Type 1 Diabetes. The majority of his nonprofit work has been dedicated to raising awareness for Type 1 diabetes through work with the American Diabetes Association and Camp Adam Fisher.  Brad is a graduate of the University of South Carolina with a major in Information Management and System and currently works for a Michelin North America company, TCI Tire Centers. Brad joined Hub City Hog Fest during its inception year and currently serves as the Treasure and Operations specialist on the Hub City Hog Fest Board of Directors.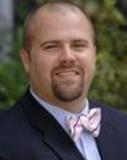 Matthew "Matt" CashSecretary
Matt, a Spartanburg native, graduated from the University of South Carolina Upstate in 2006 with a Bachelor of Arts degree in Political Science.  He has been employed with the University of South Carolina system for eight years, and is active in the community and his profession by serving on the boards for the USC Upstate Alumni Association, the USC Upstate Foundation, Spartanburg Young Professionals, and the Carolinas Association of Collegiate Registrars and Admission Officers (CACRAO).  Matt has volunteered at the Hog Fest since the inaugural year, and is excited to now serve on the Board of Directors.

Grey WickerVP of Public Relations
Grey is a native of Spartanburg and a long time supporter of Mobile Meals and downtown development.  Grey and his wife, Amanda, met in law school in Charleston and married shortly thereafter.  Grey practices with Spears & Wicker, PA in downtown Spartanburg and Amanda practices criminal defense in Greenville.  An avid BBQ-er with a passion for serving those in need in Spartanburg, as well as putting forth his efforts in downtown development, Grey has proudly been a part of the Hog Fest team since its inception.  Grey currently serves as the Vice President of Public Relations on the Hub City Hog Fest Board of Directors.

Patrick AndersonVP of Legal
Patrick was born and raised in Spartanburg, South Carolina, and is a partner at the law firm of Anderson, Moore, Bailey & Nowell, LLC. He received his Bachelor of Arts in Mass Communications from the University of South Carolina. Following college, Patrick worked in the real estate, advertising, and marketing fields before starting law school at the Charleston School of Law, where he received his Juris Doctor. When Patrick isn't serving as the VP of Legal for the Hub City Hog fest you can typically find him filling other roles he holds with Spartanburg Young Professionals or the Converse Heights Neighborhood Association.

Shirley WickerVP of Fundraising
Shirley Wicker is a 1974 graduate of Salem College, a school over 240 years old, as a BA.in English. After having run the Writing Workshop at Central Piedmont College in Charlotte for a couple of years where she taught deaf and blind students, she is currently an English tutor at Spartanburg Community College for the last 4 years. Prior to that, she held a position at Piedmont Federal Savings & Loan, which became First Federal Savings & Loan of SC while she was there for fifteen years. During that time, she received the President's Pin for excellence in loan origination and insurance coverage.
In Spartanburg, Shirley has served as a membership consultant with the Spartanburg Chamber of Commerce where she specialized in sponsorship development and has used that experience with the Spartanburg Art Museum.
Shirley has previously served on the boards of the Spartanburg Youth Theatre, The Spartanburg Art Museum, and the Junior League of Spartanburg, where she served as secretary and is now a sustaining member. She currently has a Mobile Meals route, in addition to serving as the VP of Fundraising for  Hub City Hog Fest.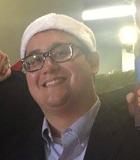 Kristian RoofVP Volunteer Coordination
Kristian Roof is originally from North Augusta, SC but has called Spartanburg home since 2007. Kristian attended Wofford College where he majored in Religion, then decided to stay in Spartanburg afterwards because of his love for the community. Kristian works in Spartanburg for Vic Bailey Volkswagen and attends Central United Methodist Church. He is fully invested in the continuing growth of Spartanburg by serving on the board for the United Way of the Piedmont Young Leaders Society and by being a member of the Spartanburg Young Professionals. Kristian is honored to serve on the board for the Hub City Hog Fest because of its commitment to the Spartanburg community and its benefit to Spartanburg's citizens through Mobile Meals.